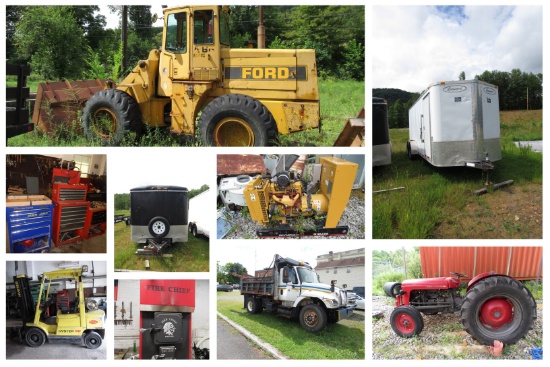 Trucks, Equipment, Tools, Shop Items, & more
Thursday, November 5, 2020 | 9:30 AM Eastern
to bid until the live auction begins!
Trucks, Equipment, Tools, Shop Items, & more
Thursday, November 5, 2020 | 9:30 AM Eastern
to bid until the live auction begins!
Description
Tool and Equipment Auction
Thursday November 5th at 9:30 AM
Registration & Inspection begin at 8:00AM
Pickup: Friday, November 6th 9AM – 4PM
Alpha Construction
815 Main Street Summersville, WV

ONLINE BIDDING VIA PROXIBID (Link coming soon)

Trucks, Cars, Trailers, Tractors, Rolling Stock & Related Items
2004 International 7400 Dump truck with DT 466 Engine
Mitsubishi FUSO 5 spd
1974 Ford F-350 Custom flatbed
2008 Ford Fusion
2003 Dodge Stratus
Hyster Model 50 Forklift
Ford A-66 Loader
Massey Ferguson 35 Tractor
Side Boom Brush hog
Enclosed Cargo trailer
V-Nosed cargo trailer
New Truck parts

Tools, Shop Items, and Construction Equipment & Supplies
Olympian generator Model GL 003S
5000 Lb. platform scales
Stinger Mobile Fall Protection system
Chant Land Electric Conveyor Model BA 23
Roper Whitney Co. Metal Brake
Dewalt table saw
Craftsman Drill press
Klutch Electric Pipe Threader Show more Show Less
No lots have closed yet for this auction.